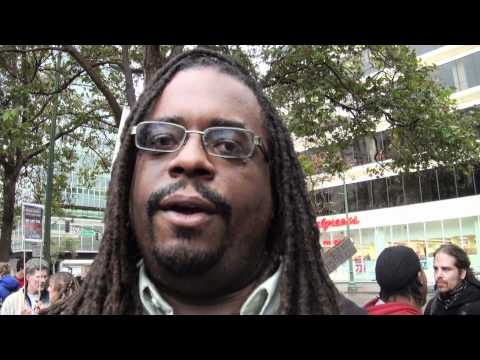 Abby Martin of Media Roots conducts on the spot interviews with Oakland residents about why they want change on the first two days of Occupy Oakland.
Media Roots Radio Interview with David Swanson by Media Roots
MEDIA ROOTS- This is an exclusive Media Roots Radio interview with David Swanson conducted on May 19, 2011. David is the co-author of "The 35 Articles of Impeachment and the Case for Prosecuting George W. Bush". He was press secretary for Dennis Kucinich's 2004 presidential campaign, and is the co-founder of AfterDowningStreet.org, creator of ConvictBushCheney.org and Washington Director of Democrats.com, a board member of Progressive Democrats of America, the Backbone Campaign, and Voters for Peace, and a member of the legislative working group of United for Peace and Justice.
MEDIA ROOTS- In George Orwell's 1984, Britain is depicted as a totalitarian police state that is ruled by the Party, or Big Brother– an enigmatic, ubiquitous elite that controls society through heavy surveillance, nationalist propaganda and historical revisionism. The concept seems like a far-fetched portrayal of a Democratic nation's demise into totalitarianism, but in America's "post 9/11" climate of fear, the United States government has been building a comprehensive grid of surveillance and control that bears frightening similarities to Orwell's fictional narrative.
The glaring difference between the two is that Orwell's dystopian society is overtly totalitarian. America, conversely, operates under a "soft fascism" – an insidious, systematic method of preventative action and corporate top-down control over society's media, economy and politics – while maintaining the necessary illusion of personal choice and freedom. A populous with little to no concept of their subjugation makes them the perfect subjects to rule.
Many Americans might not feel the government's hand or Big Brother's watchful eye directly in their lives. However, with the use of GPS, cell phones and the Internet, every move we make can be tracked, cataloged and divied into demographics that are used to increase corporate advertising efficiency and to create a "chilling effect" throughout our culture, stifling dissent and diminishing activism.
Keep reading article about the Impeding Police State here.
Writing and Photography by Abby Martin.
Learn more at http://www.MediaRoots.org
Media Roots- KPFK's Chris Burnett of Indy Media on air interviewed me about my website MediaRoots.org for his FM radio show last Monday to talk about Obama, politics, activism, and media justice. We talk about 9/11 truth quite a bit on the show, starting at about 20:00. Listen here.
For the past few weeks we held Street Action @ various locations throughout NYC for a bit of a change. But This week we are coming back to the most important street action location, Ground Zero.
Ground Zero is were this movement started 8 years ago and it will continue until we win. Please come out or tell your friends in NYC to come out because it will be a great day in the sun full of activism. If you are new to educating the public and are a little shy to joining us, no worries we can give you a crash course, just ask.
Look for us by the Path station & Building 7 on Vesey St.
Help pass out fliers, dvds, and promote 9/11 truth… affecting Change one person at a time.
Followed by a meeting @ INN Studios,
56 Walker St. New York NY 10013 @ 6:00pm.
Take the N, R or 1,2,3 train to Canal St
One block south of Canal Street off Broadway(turn West).
Continue to check out our Meetup calendar for new street actions, updates and location changes.