This is a big month for Saira Blair.  Next week she graduates from high school and she may already have her first job.  Saira defeated Republican incumbent, Larry Kump, in Tuesday's primary for the House of Delegates in West Virginia.  As soon as she trades in her cap and gown for her civvies, she has her work cut out for her.  Saira did have one advantage.  Her father is Craig Blair who once held the seat his daughter is running for and is now a state senator.
Senator Rand Paul (R-Ky.) may have the potential to harness youth support, frustrated Democrats, libertarians and harsh fiscal conservatives if he runs for President in 2016. But already there are well-heeled forces working to preemptively quash a potential Paul Presidency.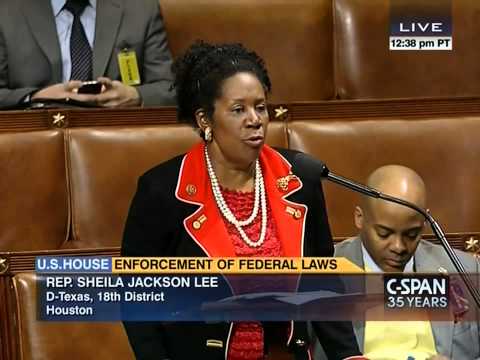 Rep. Sheila Jackson Lee (D., Texas) declared the U.S. Constitution to be 400 years old Wednesday on the House floor, which would mean it was signed in 1614.
"Maybe I should offer a good thanks to the distinguished members of the majority, the Republicans, my chairman and others, for giving us an opportunity to have a deliberative constitutional discussion that reinforces the sanctity of this nation and how well it is that we have lasted some 400 years, operating under a constitution that clearly defines what is constitutional and what is not," she said.
Kurt Nimmo
Infowars.com
April 26, 2010
Members of We Are Change from the San Francisco area were kicked out of a Tea Party event on April 15. The event was held at the Alameda County Fairgrounds in Pleasanton, California. See the video below.

It appears only supporters of the Republican hijacked Tea Party were welcome at the event.
Orly Taitz, an Orange County attorney who has gone to court to disqualify Obama on constitutional grounds, was invited to speak at the event. She was dis-invited after establishment Republican political candidates got wind of her planned attendance. "It's not worth it," Bridget Melson, founder and president of the Pleasanton Tea Party, told the Los Angeles Times. "She's too controversial. This is not what the tea party is about at this point."
The event was announced and promoted by the Tea Party Patriots, an organization partnered with FreedomWorks, the "conservative" (neocon) organization headed up by the former establishment Republican Dick Armey and funded by the Sarah Scaife Foundation, a neocon operation directed by the billionaire and CIA operative Richard Mellon Scaife. Other Tea Party Patriots partners include the Republican news portal and blog site RedState and the neocon blogger, concentration camp apologist and Fox News darling Michelle Malkin.
The Pleasanton Tea Party does not list partners or financial backers on its website. However, since they are teamed up with the Tea Party Patriots, FreedomWorks, and the scurrilous neocon Scaife we can assume they share the Republican Borg hive version of Tea Party activism (including swearing fealty to the Republican national platform of total war and the bankster agenda).
The Tea Party Patriots website has posted effusive praise for the Fox News disinfo operative Glenn Beck. Beck has denounced the 9/11 truth movement on numerous occasions, accused it of being in cahoots with al-Qaeda and white supremacists, and believestruthers plan to assassinate Obama.
If the Republican version of the Tea Party manages to absorb the Libertarian Tea Party movement, we can expect a new crop of neocon Republicans to replace the "socialist" Democrats come November. If the momentum continues into 2012, we can expect another George W. Bush as president and a continuation of the occupations of Afghanistan and Iraq. The bankster agenda and the Federal Reserve will move forward, albeit with the trappings of the Tea Party (confined to the same sort of fake Libertarian lip-service Reagan read from a script while fronting as president for the New World Order).
Is it unfair to characterize the Republican Tea Party as the CIA Tea Party? Considering the involvement of Richard Mellon Scaife, a covert takeover of the movement by the spook agency is a distinct possibility. It certainly would not be the first time a legitimate political movement was taken over by an intelligence agency. In fact, the CIA specializes in creating political movements from the ground-up.
Stephen Ohlemacher, On Thursday April 22, 2010, 8:06 pm EDT
WASHINGTON (AP) — Nearly 4 million Americans — the vast majority of them middle class — will have to pay a penalty if they don't get insurance when President Barack Obama's health care overhaul law kicks in, according to congressional estimates released Thursday.
The penalties will average a little more than $1,000 apiece in 2016, the Congressional Budget Office said in a report.
Most of the people paying the fine will be middle class as Obama's comprehensive law is phased in over the next few years. In his 2008 campaign for the White House, Obama pledged not to raise taxes on individuals making less than $200,000 a year and couples making less than $250,000.
Republicans have criticized the requirement that Americans get coverage, even though the idea was originally proposed by the GOP in the 1990s and is part of the Massachusetts health care plan signed into law in 2006 by then Gov. Mitt Romney, a Republican. Attorneys general in more than a dozen states are working to challenge it in federal court as unconstitutional.
"The individual mandate tax will fall hardest on Americans who can least afford to pay it, many of whom were promised subsidies by the Democrats and who the president has promised would not pay higher taxes," saidRep. Dave Camp of Michigan, the top Republican on the tax-writing House Ways and Means Committee.
Sen. Chuck Grassley of Iowa, the top Republican on the Senate Finance Committee, said while Obama and congressional Democrats celebrate the benefits of the law, they have an obligation to acknowledge the flip side. "There's a price for not participating, and people will pay it," Grassley said.
Democrats argue that the requirement and the penalties are a necessary part of a massive overhaul designed to expand coverage to millions who now lack it. They point out that getting more Americans, especially young and healthy people, in the insurance pool will reduce costs for others and could lower premiums.
"The new law will make health insurance affordable for everyone and CBO's analysis confirms that the vast majority of uninsured Americans will find health care affordable and choose to participate," said White House spokesman Nick Papas.
Americans who don't get qualified health insurance will be required to pay penalties starting in 2014, unless they are exempt because of low income, religious beliefs, or because they are members of American Indian tribes. The penalties will be fully phased in by 2016.
About 21 million nonelderly residents will be uninsured in 2016, according to projections by the CBO and the Joint Committee on Taxation. Most of those people will be exempt from the penalties.
Under the new law, the penalties will be phased in starting in 2014. By 2016, those who must get insurance but don't will be fined $695 or 2.5 percent of their household income, whichever is greater.
After 2016, the penalties will be increased by annual cost-of-living adjustments. People will not be required to get coverage if the cheapest plan available costs more than 8 percent of their income.
The penalties will be collected by the Internal Revenue Service through tax returns. However, the IRS will not have the authority to bring criminal charges or file liens against those who don't pay.
About 3 million of those required to pay fines in 2016 will have incomes below $59,000 for individuals and $120,000 for families of four, according to the CBO projections. The other 900,000 people who must pay the fine will have higher incomes.
The government will collect about $4 billion a year in fines from 2017 through 2019, according to the report