#ShootBack Posters Sweep Through Southern California !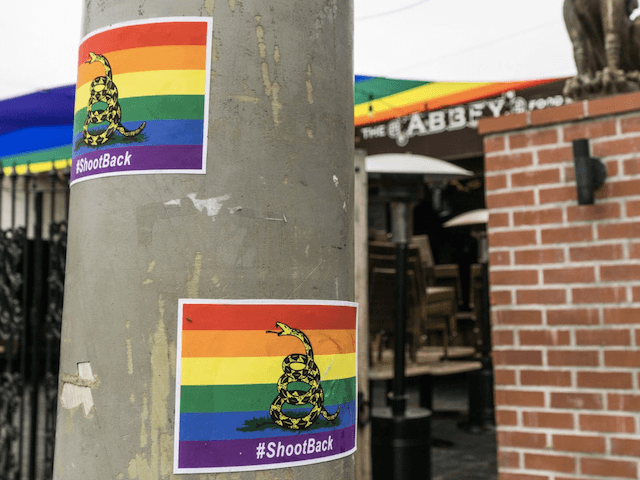 Residents of West Hollywood, California woke Thursday morning to find their city plastered with rainbow-colored Gadsden flags affixed with the pro-gun message "#ShootBack" in the wake of the Orlando terrorist massacre earlier this week.
WeHo residents took to Twitter to post photos of the signs, which feature the signature Gadsden snake with the phrase "Don't Tread on Me," above the hashtag #ShootBack.
The signs were reportedly placed all over West Hollywood, including in front of City Hall, at the Pacific Design Center, and in front of popular gay lounge The Abbey.
Some of the social media posters expressed their support for the pro-LGBT, pro-gun sentiment of the signs, but at least one WeHo public official was less than enthused.
"We are disturbed by them," West Hollywood Mayor Lauren Meister told the Los Angeles Times. "We don't believe in an eye for an eye, and we advocate against gun violence."
(Meister sits on the City Council with former mayor Lindsay Horvath, who recently announced that Donald Trump would be banned from campaigning in West Hollywood.)
Love this!#shootBack pic.twitter.com/MMG2HzxgYu

— ??James Gun?? (@Laser_KSG) June 16, 2016
The signs are apparently a response to the deadly terror attack in Orlando, Florida earlier this week, in which a gunman who reportedly pledged allegiance to the Islamic State opened fire at the gay nightclub Pulse, killing 49 people and wounding 53 more in one of the deadliest shooting attacks in American history.
West Hollywood director of public works Oscar Delgado told the Times that city cleanup crews would remove signs that are placed in the public right of way.
Los Angeles County Sheriff's Department Capt. Holly Perez told the paper she began alerting other sheriff's deputies when she notices the signs were being placed on public property.
"I understand the sentiment behind them and First Amendment rights, but it's a bad message," Perez told the Times. "I hope it's just people venting that they could do this, and I'm hoping their calmness will take over. It's our job to keep you safe."
The term "bad message" suggests that the city might be removing the signs based on their content alone, which would be a direct violation of the First Amendment.
Mourners held a candlelight vigil in front of Los Angeles City Hall earlier this week, where thousands paid their final respects to the victims of the deadly attack. Pop star Lady Gaga led the vigil alongside representatives from Southern California LGBT organizations.
Follow Daniel Nussbaum on Twitter: @dznussbaum
Source: http://www.breitbart.com/california/2016/06/16/shootback-west-hollywood-covered-rainbow-pro-gun-posters/
---

Sign up become a patron and Show your support for alternative news
for Just 1$

a month you can help Grow We are change

We use Bitcoin Too !  
12HdLgeeuA87t2JU8m4tbRo247Yj5u2TVP
©WEareCHANGE.org (2016)