Meet the Journalist who conceal the Bilderberg's Secrets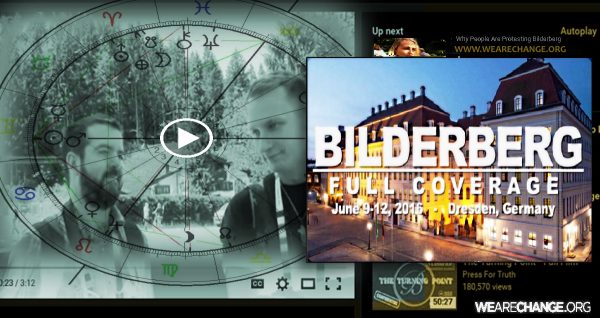 (WRC.org) In case you missed it, the widely controversial annual meeting of world elites started today in Dresden Germany, this years Bilderberg Attendee's include Prime Ministers, heads of banking cartels, Sen Lindsey Graham, as well as CEO's and Chairman of major companies such as Linked-In, Honeywell, and Royal Dutch Shell. But who else could be there? In a controversial election season, mainstream media has showed its hand in keeping things status quo, but now they arbitrarily decide to cover up world events by proxy. How can we trust media outlets, if they attend and cover up the secrets of the rich and powerful?
Several international media moguls, from Spain and Italy, as well as editors in chiefs from Bloomberg, The Economist, Minton Beddoes, Zanny and La7 TV, Gruber, Lilli. Even April Applebaum, a Washington Post Columnist and McArdle, Megan a Bloomberg Columnist.
---
---

NBC's chief foreign correspondent Richard Engel is also in attendance, Cebrián, Juan Luis Executive Chairman, PRISA and El País
but none of these so called journalist are there to inform the masses of what is happening at this historic private secret meeting. No they are there to be apart of the secrecy.
A full list of participants for Bilderberg 2016 can be found here at the We Are Change website .
When a group of rich and powerful meet in one place, under a heavy veil of secrecy, what can the general public assume they are meeting about?  Various top economists and Bank moguls are also in attendance, raising the question. 
Why would various banking moguls meet once a year and collude in secrecy unless they are deciding or influencing future events?
Former Secretary of State under Reagan and Ford, Henry Kissinger famously said, "The illegal we do immediately. The unconstitutional takes a little longer," is also in attendance this year, as many years prior.
If 120 people get together, of the most powerful and richest sorts, do you honestly feel they are working in your benefit? Do you truly buy that they will fight for us, in a 5 star hotel, paid for and protected by local law enforcement who are harassing journalist and researchers freaking reporters covering the event?
Luke also talked to 2 brave journalist Charlie Skeleton (@Deyook) who works at the Guardian and Tony Gosling (@TonyGosling) an ex BBC journalist. Both gave their view of why the mainstream press needs to start covering Bilderberg. Tony Gosling expressed that if he was still working at the BBC he would be putting this live on television.
Charlie Skeleton also argued in favor of supporting transparency in the main stream media regarding the Bilderberg group, saying its definitely a big political summit raising questions about the possibility of lobbying with so many influential people meeting in one place at one time. Charlie expressed that the Bilderberger's want us to think its a conspiracy theory, to distract from the factual and rational information saying "that you hear a few of the Bilderberger's insider's using conspiracy theory rhetoric to talk to the press to frame the meeting." Which iv personally been advocating for years and is the reason for my Twitter handle "Akilluminati" to kill the conspiracy talks that the Elite are Illuminated and apart of a group called Illuminati and to put name's on these Elite and to name the groups themselves that are documented to exist today. Like skull and bones, the CFR, Trilateral Commission, the Round table, Zionist and the Bilderberg group so kill the conspiracy theory show the factual information that several groups have influence in our world through secret societies..
Both Video Interviews by Luke of Charlie Skeleton and Tony Gosling are below.
McArdle, Megan (USA), Columnist, Bloomberg View
Micklethwait, John (USA), Editor-in-Chief, Bloomberg LP
Minton Beddoes, Zanny (GBR), Editor-in-Chief, The Economist
Gruber, Lilli (ITA), Editor-in-Chief and Anchor "Otto e mezzo", La7 TV
Engel, Richard (USA), Chief Foreign Correspondent, NBC News
Applebaum, Anne (USA), Columnist Washington Post; Director of the Transitions Forum, Legatum Institute
Cebrián, Juan Luis (ESP), Executive Chairman, PRISA and El País
Frm BBC Journalist: Why Bilderberg Won't Allow BREXIT:
How Relevant Is Bilderberg?:
Full Bilderberg confrontations playlist here — > What Where You Doing At Bilderberg ??? 
---
"He who is not courageous enough to take risks will accomplish nothing in life."
~Muhammad Ali
---
RELATED:
©WEareCHANGE.org (2016)