While in Tampa for the RNC, WeAreChange runs into Mitt Romney supporters who happen to be wearing George W. Bush "Miss Me Yet?" T-Shirts.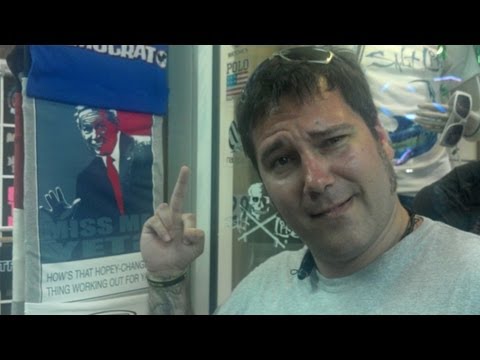 Follow Luke on twitter @ http://www.twitter.com/lukewearechange
Become a member of The Sponsor Lounge and get exclusive behind the scenes content while helping us grow! Join us today!http:///www.wearechange.org/donate
Luke Rudkowski of WeAreChange confronts Jesse Jackson about endorsing Obama even after the NDAA, military contractors, and drone bombings.
Check out WeAreChange's LIVE stream here: http://ustream.tv/wearechange and follow Luke @ http://twitter.com/LukeWeAreChange for updates and notifications for when the stream goes LIVE.
WeAreChange is a two man, full-time operation. We are entirely funded by viewers like you and appreciate anything you can give. Please help us continue to make our operation possible! http://wearechange.org/donate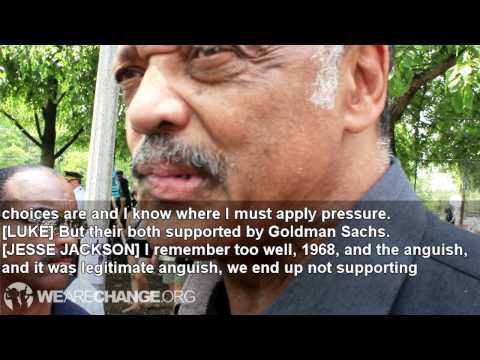 MEDIA ROOTS- Forty years ago, Finland began transforming its educational system to a more personalized methodology of teacher to student learning as part of the government's economic recovery plan. Finland's youth has since shot up to the highest in the world in reading, math and science skills.
Conversely, America's impersonal initiation of marketplace competition into its educational system has caused the US to fall behind.
According to AFP:
The three-yearly OECD Programme for International Student Assessment (PISA) report, which compares the knowledge and skills of 15-year-olds in 70 countries around the world, ranked the United States 14th out of 34 OECD countries for reading skills, 17th for science and a below-average 25th for mathematics.
Although Obama has slammed his predecessor's controversial 'No Child Left Behind' legislation, he has implemented the same broken concept of a standards based education reform into his administration's 'Race to the Top' policy.
Diane Ravitch, educational policy analyst and former US Assistant Secretary of Education, claims that President Obama's 'Race to the Top' program will further weaken the country's education process by embracing the following key elements: regular teacher evaluations in accordance with students' test scores, privatizing schools with low test scores, mass firings in low-performing schools and making states compete for federal money with test ratings.
This current educational model of standardization is inherently flawed. By basing a complete faith in standardized testing statistics to determine the competence of teachers and abilities of children, there is a human element eliminated from the equation– an element that Finland has incorporated as the main pillar of their education strategy.
Read full article on Media Roots – Standardizing Education is Not the Answer.
Written by Abby Martin, photo by Brett Smith
Media Roots Radio- Interview with Key Eyewitness to "Underwear Bomber" False Flag by Media Roots
Abby and Robbie Martin conduct an exclusive interview with Kurt Haskell, attorney and key eyewitness to the 12/25/09 "Underwear Bomber" incident. Kurt maintains that he witnessed a well dressed man argue with security and escort Umar Farouk Abdulmutallab onto his US flight without a passport. Shortly thereafter, Umar Farouk Abdulmutallab allegedly attempted to blow up flight 254 with plastic explosives hidden in his underwear, prompting the new wave of Backscatter X-ray machines in airports.
Kurt explains why he feels like the entire event was staged by the government in order to perpetrate the threat of terrorism in this country, and how being an eyewitness to a false flag attack caused him to question his entire political paradigm.
The above timeline is interactive. Scroll through it to find out more about the show's music and to resources mentioned during the broadcast. To see a larger version of the timeline with clickable resources go to the soundcloud link below the player.
If you would like to directly download the podcast click the down arrow icon on the right of the soundcloud display. To hide the comments to enable easier rewind and fast forward, click on the icon on the very bottom right.
Kurt Haskell on Fox News
To learn more about Kurt and to follow this case as the trial continues, go to http://haskellfamily.blogspot.com
Listen to last week's radio show about Charlie Sheen, Bradley Manning, Sex & Censorship, an exclusive interview with Brett Smith, the Creator of 9/11 Movie Hypothesis, or an Interview with Cindy Sheehan.
US authorities have arrested a number of anti-war protesters, including high-profile activist Cindy Sheehan, during a demonstration in Washington DC.
Eight peace activists were detained after laying coffins near a fence outside the White House during a Saturday rally in which thousands of anti-war protesters gathered at a park in the area to mark the seventh anniversary of the US-led invasion of Iraq .
They were demanding the withdrawal of US troops from Iraq and Afghanistan.
The protesters directed their anger at US President Barack Obama and demanded action against former President George W. Bush and his Vice- President Dick Cheney.
Sheehan, arrested at the end of the march, had earlier said, "We did lose some momentum when Obama came into office, but now we have younger people that are very energetic. They know we can change the world."
Sheehan, who has been and anti-war campaigner since she lost a son in the Iraq war, may stand trial, reports indicate.
She gained repute as a peace activist in 2005 for protesting outside of Bush's Texas ranch.
GHN/ZAP/MMN